June 8th, 2012 Posted in
Bariatric surgery
,
Eating healthy
,
Nutrition
,
post weight loss surgery tips
,
Post WLS tips
,
Protein and calories
,
Recipes
,
Uncategorized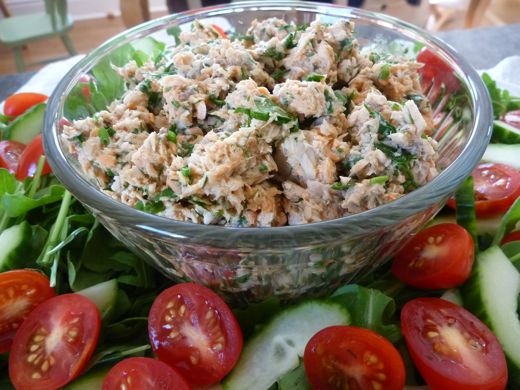 This is a weight loss surgery healthy twist on the classic chicken salad, which is usually loaded with mayo, chicken, and slapped between two slices of bread. This weight loss surgery friendly salmon salad mix can be consumed on its own or on top of spinach. It is a lower cal version of the classic chicken salad with an added bonus of Omega-3 Fatty Acids which are not consumed very often in the American diet.
 
Ingredients:
-2 oz canned salmon
-1 Tbsp Non-fat Greek yogurt (plain)
-1 tsp lemon juice
-1 Tbsp diced celery
-1 Tbsp diced apple
-small pinch of salt
-small pinch of pepper
 
Optional: This mixture would also taste great with added curry powder (yellow curry) instead of pepper. Curry also contains many spices that pack a potent health benefits that ranges from inflammatory properties to antioxidants. If you like dill, it is also great with added fresh dill.
 
Directions:
**Couldn't be easier**
Put all ingredients into a bowl and mix.

Taste to adjust seasoning.

Serve!
Nutrition Facts: (per 2 oz serving): ~98 calories, 13 gm protein, 4 gm fat (healthy omega-3s!), and 1 gm carbs